Leading Radio Mechanic P/MX 93190 Geoffrey Leonard Philip Saunders
Royal Navy, H.M.S. Avenger
Killed at Sea 15th November 1942
Son of Arthur James Saunders and Ethel May Saunders, of Hemel Hempstead, Hertfordshire.
Portsmouth Naval Memorial, Panel 69, Column 3.
Geoffrey was a pupil at Hemel Hempstead Grammar School from 1939 to 1940. He was an evacuee which is why he only spent one year at the school. He was the son of Hemel Hempstead's police superintendent. It was said that his father seriously considered prosecuting him for riding his bicycle no hands down the Potten End hill into Water End. (Source Derrick Collier, an ex-pupil).

He joined the Royal Navy and became a leading radio mechanic. He was serving on HMS Avenger which was sunk by a German submarine 45 miles south of Portugal whilst returning to its Scottish base from Africa. There were only 12 survivors from a crew of 550. He died on 15th November 1942, aged 19.

Samantha Rees researched the circumstances of Geoffrey's death at the National Archives in Kew in January 2010 and found the following information:

"After the explosion on the HMS Avenger a great many rumours circulated about the design of the ship causing it to be unsafe. A report was published that explained why it sank. It highlighted the rumours, noted how irate they were and stated that they were insubstantial, though the architecture of the bomb room was noted as a factor in the disaster. The explosion was the result of a torpedo hitting the bomb room which caused the bombs to explode with catastrophic results. The report claimed that the only survivor in a position to witness the events "indicated the torpedo hit at about 75 frame which is abreast the bomb room." The remaining 12 survivors were in the end of the ship so had no clear view. This explains their survival; they were a great deal away from the blast and were able to dive from the stern of the ship. We can conclude that Geoffrey probably died because he was closer to the centre of the blast."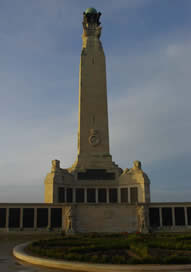 The Portsmouth Naval Memorial and the plaque listing Geoffrey Saunders
(Photos: Richard Grayson, 28th December 2011)