Flight Lieutenant 128102 John Reid DFM
Royal Air Force Volunteer Reserve, 605 Squadron
26th June 1944
Son of John and Lexie Reid; husband of Lilian Joan Reid (nee Cope), of Hemel Hempstead.
Heath Lane Cemetery, Hemel Hempstead, Sec. J. Uncons. Grave 30.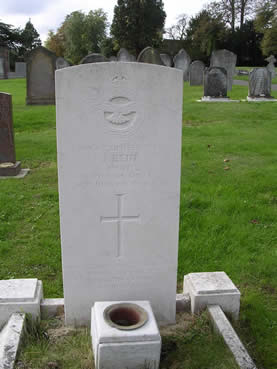 John Reid's grave in Heath Lane Cemetery
(Photo: Richard Grayson, 30th September 2010)
In November 2021, 'Hemel at War' was contacted by Norman Southam, John Reid's nephew. We are very grateful to Norman for providing us with the text below.
Flt Lt. John Reid (128102) RAFVR by Norman Southam
John ( Jackie) Reid was born in the very small village of Dullatur not far from Glasgow where he lived and grew up on the Dullatur Golf Course, where his father ( John) was the club professional and green keeper, and his mother (Elizabeth) was the Clubhouse manageress. He became a very successful golfer and rugby player: he was second in the 1936 Scottish Schoolboys Championships, and played in his undefeated school rugby team. He attended Lenzie Academy, near Kirkintilloch, Glasgow.
Jackie with his mother on the right, and Mary Kelly, an employee, to the left, 1937.
John (Jackie) enlisted with the RAF VR on 12th September 1939 at Padgate as an Aircraftsman, No 967458. He had travelled down from Grangemouth, his initial first stop in his long very successful RAF flying career. He was 17 years old, having been born in 1922. He had already had a few private flying lessons at Grangemouth by this stage. He commenced flying training at No1 Elementary Flying Training School at Hatfield, Hertfordshire on 10th June 1940. He then moved to the Services Flying Training School RAF College Cranwell on 24th June 1940 and then onto No 10 Operational Training Unit at Abingdon on 19th October 1940.
Jackie (Left) and his to be lifelong best friend Stan Brooker, a Canadian who flew Spitfires on Malta, shot down and killed in May 1942.
On 15th January, he was posted as a Squadron pilot to 102 (Ceylon) Squadron n at Topcliffe. He was Leonard Cheshire'ss direct replacement as he had been posted to 35 Squadron on Pathfinders. Jackie flew twenty-six operational sorties (197 hours) as a Sergeant Pilot on Whitley bombers. Near the end of his tour with 102, he crash landed in poor visibility in a Whitley V (Z6746) while returning from a mission over Hanover in August 1941. The plane was a write off but the crew of five all walked away. Although we have no direct confirmation, we are sure this was why Jackie was awarded the Distinguished Flying Medal. On completion of his operational tour he became a Flying Instructor at No 19 Operational Training Unit Kinloss on 30th August 1941 with the rank of Flight Sergeant.
His next posting was to 271 Transport Squadron on 30th October 1941 and whilst there he was granted a commission to Pilot Officer in the RAF Volunteer Reserve on 29th May 1942. He was 20 years old at this time. He flew 650 Hours with 271 Squadron, flying Albemarles, Whitleys, Halifax, Whitney Straits and also the Albatross, a forerunner of the Mosquito he would grow to love and enjoy flying later in his career. He flew many famous faces around the UK while at 271 Squadron, includingl Eleanor Roosevelt, wife of the US President. It was while with 271 Squadron, that Jackie decided while on a training flight to visit his home. This flight went into local folklore and the tale was he was flying a Spitfire, but it was actually the Squadron's Magister, a single wing training/messenger aircraft about the size of a Spitfire.
He mentioned the visit in a letter to his parents:
On 30th August 1942 he moved to No 60 Operational Training Unit at High Ercall for Night Intruder training. Promotion to Flying Officer followed on 29th November 1942. His next posting was to No 12 Advanced Flying Unit on 25th May 1943, for advanced flying training , flying firstly the Blenheim (which he complained was VERY draughty) then the Beaufighter, before being trained on what was to become his beloved his beloved Mosquito, firstly on Mark 2 and 3s, before getting into a Mark 6. He wrote home about the Mosquito:
He joined his last squadron, 605 (County of Warwick) Squadron on 29th October 1943. He was promoted to Flight Lieutenant on 25th May 1944. He and Ray did many night time intruder missions over Europe, with much success.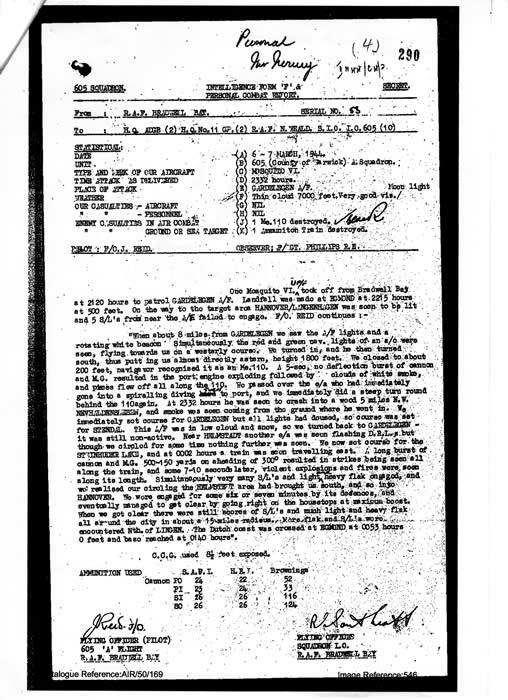 His Intelligence Officer reported the following day: 'It only remains to be added to this story of an exceptionally fine sortie the fact the subsequent photo recces established that the damage wrought by the ammunition train blowing up was reckoned to be the equivalent to that which would have been produced by 500 heavy bombers. F/Sgt Phillips was later commissioned before the tragedy which resulted in the loss of an excellent crew when they had but one more sortie to do before taking a "rest".'
Initially the Squadron was based at Bradwell Bay, and in April 1944, they were moved to Manston, in the run up to D Day. Jackie, his Observer Roy Phillips and two other crews and aircraft were tasked with attacking the Merville Battery just after midnight on 5th-6th June 1944, to take out searchlights and anti-aircraft guns in readiness for the airborne invasion coming minutes behind them. All the details are in his D Day logbook entry.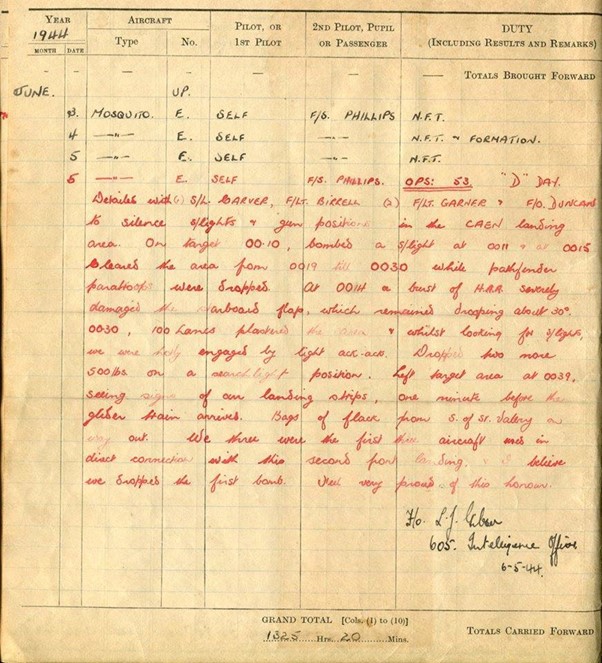 They had a very successful mission. Jackie's aircraft also dropped the first bomb of the '2nd Front'. After this, the Squadron were put onto 'Home Defense' shooting down 'Divers', aka Doodle Bugs. He was 'lucky' once, and wrote home that it was not very 'thrilling' work. He was looking forward to leaving the RAF, and was ready to go back to golfing, this time as a professional golfer. He had been a very successful golfer before the war, and still occasionally kept his hand in when he could.
He had married Linda Cope in March 1942 at St Mary's Church in Hemel Hempstead, and had a son Duncan born later that year.
The day before he and Ray (Observer) were killed in a flying accident over Margate in Mosquito FB V1 NS880, he wrote home that his 'time here was up and that he had done all he could do in the RAF'. He actually meant his time in the RAF was coming to an end. The aircraft exploded and broke up at about 1000 feet, falling onto the line outside Margate Railway Station.
Ray and Jackie died on 26th June 1944, and Jackie is buried in Hemel Hempstead's Heath Lane Cemetery.