Flight Sergeant 1559966 Victor Wilfred Piedot
Royal Air Force Volunteer Reserve
21st January 1944
Son of Arthur Samuel and Rosa Piedot; husband of Yvonne Piedot, of Hemel Hempstead, Hertfordshire. A.C.I.S.
Berlin 1939-1945 War Cemetery, 9. A. 8.
Information received from Eileen Bostle in an email dated 22nd June 2019:
I found your website while researching the names on the war memorial of the former Minchenden Grammar School at Southgate, North London. Victor Wilfred Piedot attended the school, after going to Hazelwood Lane Primary School In Palmers Green. He was born at 17 Avondale Road Palmers Green, and lived there all through his school years. After leaving school he studied cartography at Regent Street Polytechnic, and then worked at the Geographical Institute in Edinburgh. He went to Pretoria in South Africa to train with the RAF. After returning to the UK, on his maiden sortie his plane failed to return from a night bombing raid on Germany.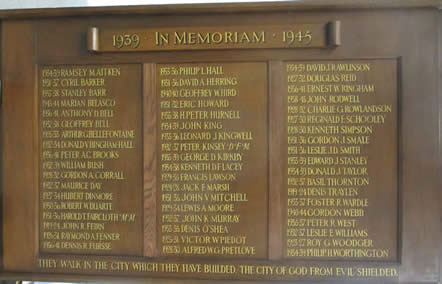 Minchenden Grammar School War Memorial
(Photo: Graham Frost / Museum of Enfield)