Sergeant 1802959 Constantine McGarry
Royal Air Force, 260 Squadron
30th August 1944
Son of Constantine and Mary McGarry, of Abbots Langley, Hertfordshire
Bologna War Cemetery, I, A, 3
Constantine McGarry The grave at Bologna Cemetery
Constantine, known to his friends as Connie, was a pupil at Hemel Hempstead Grammar School from 1936 to 1940. Like many of the pupils he lived in Kings Langley. There were very few grammar schools in the area and so bright children travelled from some distance away.
He had four siblings, Mary, James, Catherine and Leo. His sister Catherine recalls that the family moved from Newcastle in about 1938 when Connie was 14 years old. Prior to that he had been a pupil at St Anthony's Junior School and St Cuthbert's Grammar School. He was in the school choir at his junior school and used to sing solos. He sang in church one Christmas although he was not in the choir.
Connie had red hair. In January 2009, Tony Horton, an ex-pupil, described him as a lovely boy - always happy and smiling. He also remembers his wonderful singing voice and particularly his rendition of a song called 'On the Isle of May.' He was always singing in the changing rooms. His Geordie accent was notable because in those days of limited geographical mobility, it was rarely heard in West Hertfordshire.
He joined the Air Training Corps in Hemel Hempstead. He was keen to do his bit and joined the RAF Volunteer Reserve where he was quickly promoted to sergeant. On joining up he was given one week's leave and then, after basic training was shipped abroad for further training in Bulawayo and then onto squadron duties. His final posting was to Italy. His family did not see him again after that initial week of leave.
Drawing on material she found at the National Archives in Kew in January 2010, Helena Mansbridge says:


'Constantine McGarry was only 20 when he was sent on his first operation as part of the Royal Air Force Volunteer Reserve. He was sent to Florence and took part in ten operations over the course of one month. Three of the most important attacks that stand out are the attacks on railway bridges on 2nd and 17th August 1944 and then on 30th of August when he was killed. What has been concluded from these attacks is that the bridge was important and may have been a vital transport route for the enemy. Eye witnesses report seeing him flying straight and level at 500 feet over the target. A flash followed by a fire was seen near the bridge. It was reported that it had every appearance of an aircraft burning fiercely. Sergeant McGarry was not seen again and it is believed that his aircraft was hit by flak'.
A letter from the Ministry of Defence informed his family that Connie was the pilot of Mustang no. FB 305. His final mission was to attack a railway bridge north of Rouen at Bosc Lamer (probably Bosc-La-Mer). He was flying in formation with 5 other aircraft.
After hostilities had ceased it was established that he had crashed at approximately 8.45 at a farm near the commune of Idice, San Lazzaro, Bologna. Sgt McGarry was originally buried near the site of his crash but later exhumed and interred in the British Empire Cemetery in Bologna.
An unexplained aspect of this story is that his plane came down at Bologna so he was almost back at base, a long way from the target. His nephew, Peter Morrissey, wonders what caused him to come down at that point rather than in France.
Peter found the following web entry from someone who was also a volunteer pilot in 260 Squadron and trained in Bulawayo a little before his Uncle Con. Both went on to fly Mustangs in Italy so must have flown together.
'A different type of operation occurred on August 15th 1944 when we were ordered to provide top cover for the glider force on D-day for the south of France invasion. This entailed a round trip of 4 hours for which we carried long range tanks, and were told to expect 50% casualties.'
It is possible that Connie was on this mission too.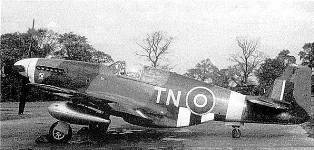 This is a photograph of a Mustang 111, the type of plane flown by Constantine McGarry when he was a sergeant in the Royal Airforce Volunteer Reserve. He was flying one of these planes when he was shot down and killed.