Lieutenant Gilbert Robert Mitchell-Innes
A Squadron, 19th (Queen Alexandra's Own Royal) Hussars
Died of Wounds 13th May 1915
Son of Edward Alfred Mitchell-Innes, K.C., and Barbara Mitchell-Innes, of Churchill, Hemel Hempstead, Herts.
Vlamertinghe Military Cemetery,
I. E.9

.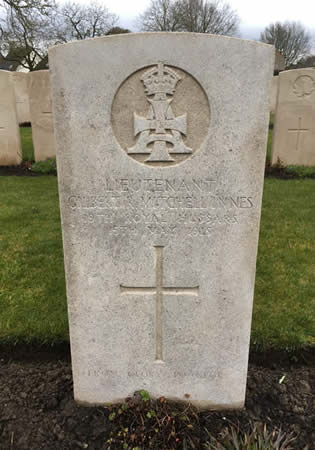 Gilbert Mitchell-Innes' grave at Vlamertinghe Military Cemetery
(Photo: Richard Grayson, 28th March 2018.)
Gilbert Mitchell-Innes is prominently remembered at the Parish Church of St John the Evangelist in Boxmoor. A family plaque refers to his death at Ypres. The family donated two volumes of an inscribed Bible and a lectern in his memory. The lectern and Bible volumes are in constant use at the Church.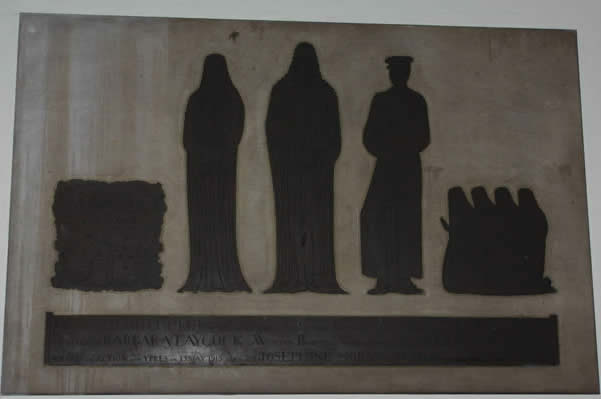 Wall plaque at St John's, Boxmoor. The inscription reads:
"EDWARD MITCHELL-INNES KC CBE. CHURCHILL BOXMOOR. BORN DEC 21 1866. MARRIED 18 APR 1893. DIED 6 MAR 1932. HE MARRIED BARBARA LAYCOCK. WISETON BAWTRY, YORKS & HAD ISSUE.GILBERT (LIEUT 19TH HUSSARS KILLED IN ACTION NEAR YPRES ON 13 MAY 1915 AGED 20), JOSEPHINE, NORMA, RHODA AND ELIZABETH."