Pilot Officer 176493 Bernard Oliver Baldwin
Royal Air Force Volunteer Reserve, 158 Squadron
25th May 1944
Son of Frank and Olive Helena Baldwin, of Apsley End, Hertfordshire.
Runnymede Memorial, Panel 210.
F/Sgt. Bernard Baldwin Bernard (2nd on left) with his crew, likely* to be with 35 Squadron
Material obtained from Bernard Baldwin's nephew, Peter Farthing, has told us a lot about Bernard's service. He trained at No. 4 School of Technical Training, St. Athan, and was posted to 158 Squadron at Lissett in East Yorkshire on 10 September 1943 as a Flight Sergeant (promoted to Pilot Officer in May 1944). His first operations were as a Flight Engineer to F/Lt. R. Reavill on eighteen operations to:
15 September 1943: Montlucon
22 September 1943: Hanover
23 September 1943: Mannheim
27 September 1943: Hanover
29 September 1943: Bochum
3 October 1943: Kassel
4 October 1943: Frankfurt
8 October 1943: Hanover
11 November 1943: Cannes
18 November 1943: Mannheim
19 November 1943: Leverkusen
22 November 1943: Berlin
25 November 1943: Frankfurt
26 November 1943: Stuttgart
20 December 1943: Frankfurt
20 January 1944: Berlin
21 January 1944: Magdeburg
28 January 1944: Berlin
Briefly posted to 35 Squadron on 23 February 1943, Bernard was sent back to 158 on 16 April and flew with F/O. C.C. Price on five operations to:
24 April 1944: Karlsruhe
26 April 1944: Villeneuve St. Georges
27 April 1944: Aulnoye
30 April 1944: Acheres
24 May 1944: Aachen
On this 23rd mission, Bernard was killed his squadron lost five aircraft. Bernard was in a plane skippered by Flying Officer C.C.Price, a Halifax Mark 3 (LW118. NP-X.) The crew of Bernard's aircraft was: F/O. C.C.Price. Pilot.F/S. B.O.Baldwin. Flight Engineer.P/O. E.T.Heard. Navigator.F/O. J.E.Sidnell. Bomb Aimer.F/S. W.Steane. Wireless Operator.Sgt. S.Jackson. Mid Upper Gunner.Sgt. H.J.Walker. Tail End Charlie. It took off from Lissett at 23.02 with Aachen as its target. It crached in the Oosterschelde off Wissenkerke, Zeeland. Of the crew, Bernard, plus Price, Heard, Steane and Jackson are on the Runnymede Memorial, F/O. Sidnell is buried in Wissenkerke General Cemetery, while Sgt. Walker's grave is located at Bergen op Zoom War Cemetery. For the raid as a whole, 264 Lancaster, 162 Halifax and 16 Mosquito aircraft took part. On the same raid, Bernard's former pilot, F/Lt. Reavill was also killed in a separate incident.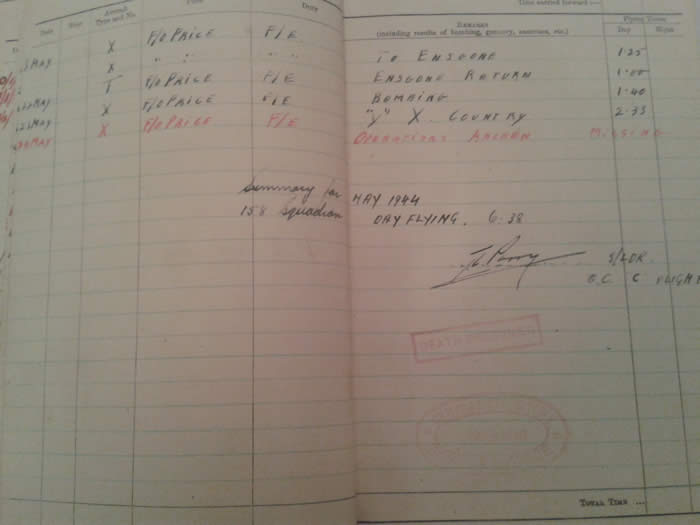 Above: the final page of Bernard's log book.
Above: local newspaper article.
Above, left: Bernard's medals; right: medal certificate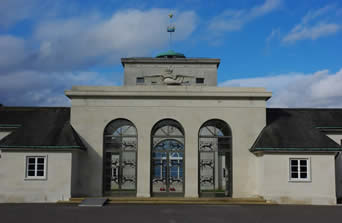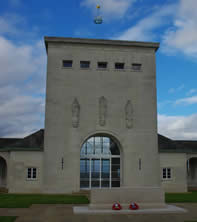 Above, left and right: Air Forces Memorial exterior.
(Photos: Richard Grayson, 19th September 2011).
* Note supplied by Peter Farthing: the photo is thought to include F/O. Ralph Reavill as the pilot. The aircraft shown is a Halifax II and when they returned from Pathfinders at Graveley with Price as their new Pilot they were flying the Mark III. No. 35 Squadron converted to the Lancaster in March 1944 from the Halifax II (shortly before they returned and a possible reason for doing so) but the pilot is not Price (who had a moustache). With thanks for the 158 Squadron Association who provided Peter with some of the information he sent to us.