Second Lieutenant Henry Balderson
Devonshire Regiment, attached 1/6 Gloucestershire Regiment
Killed in Action 23rd July 1916
Son of Robert Henry and Edith Balderson, of South Lea, Hemel Hempstead, Herts.
Pozieres British Cemetery, Ovillers-La Boisselle, IV. G. 43.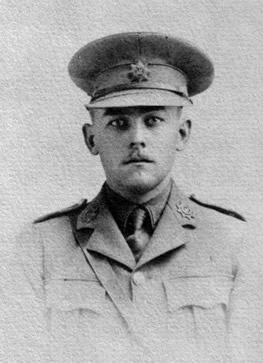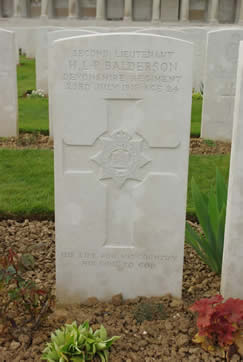 2nd Lt Henry Balderson His grave at Pozieres
(Photo: Richard Grayson, 2nd April 2014)
Henry Balderson enlisted as a part-time soldier, known as a Special Reservist, in 1911. He
was then aged 18 and was training to be an accountant, working in Tower Hill in London.
He had some military experience having been in the Officers Training Corps while a pupil at
Lancing College. Being in the Special Reserve meant attending training for as much as a
month a year, at an army camp. It also meant joining the regular army as a full-time soldier
if war broke out. So in August 1914, Balderson joined the 28th London Regiment, known
as the Artists' Rifles. In little more than a month his officer potential had been recognised
and he was transferred to the 8th Devonshire Regiment as a Second Lieutenant.
Balderson's battalion was sent to France in July 1915, and he received a gun shot wound in
action at Loos on 25th September 1915. As a result, Balderson was sent back to England.
It was not until May 1916 that he was fit for service.
Balderson was sent back to France in late June 1916, and was soon transferred to the 1/6th
Gloucestershire Regiment. When the battalion played its part in the battle of the Somme,
near Ovillers, Balderson was reported missing on 23rd July 1916. The battalion attacked
soon after midnight, and immediately faced very heavy German machine gun fire.
Meanwhile, the Germans fired shells which made it difficult for the wounded to be brought
back to British lines. It was clear from the first that the British shelling which had been
intended to break the wire on the German lines to allow the British to enter the German
trenches had been ineffective. The battalion War Diary includes a report from the men who
returned. They said, 'When they approached the German parapet they found good wire
and were held up by very heavy M.G. [machine gun] fire. Lt CORBETT and most of the
leading wave were killed. The 2nd and 3rd wave came up under 2 Lt BALDERSON who
was killed.' The officer who wrote the War Diary said, 'The cause of the failure was in my
opinion the lack of artillery preparation. None of the M.G.s [machine guns] … had been
knocked out and the enemy line had hardly been shelled at all.'

When Balderson's mother received the notice of that she would have had no certainty over
whether or not he was dead. A month later, 24th August, she received a telegram saying
that her son was dead. In her efforts to try to find out more, she was told at one point by the
1/6th Gloucestershires that they did not have any record of him serving in the battalion.
That can only have confused his mother who was waiting for news.

At the end of the war, as the Commonwealth War Graves Commission tried to establish
where all graves were, Balderson's body was found to be near to Pozieres, but not with
other British graves. So his body was moved to the Pozieres British Cemetery.
Pozieres British Cemetery
(Photo: Richard Grayson, 2nd April 2014)

At the time of his death, Balderson's family had long been connected with St John's Church
in Boxmoor. One of his grandfathers (also called Henry) had been Churchwarden there for
fifty-two years from 1853 to 1905. So it was natural that his family would choose to
commemorate him in some way in the Church, doing so through the provision of a window
showing St George and St Alban.
Further information is available on the Lancing College website.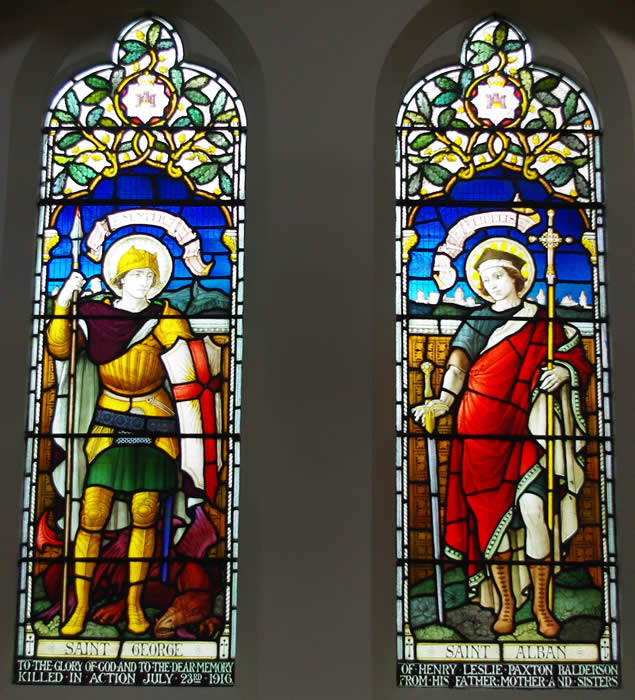 Window at St John's, Boxmoor. The inscription reads:
TO THE GLORY OF GOD AND TO THE DEAR MEMORY OF HENRY LESLIE PAXTON BALDERSON
KILLED IN ACTION JULY 23RD 1916 FROM HIS FATHER MOTHER AND SISTERS
(Photo: Richard Grayson, 29th October 2010)
[Sources: National Archive Kew, WO 95/2758, 1/6th Gloucestershire Regiment & WO
339/21495 File on H.L.P. Balderson; Boxmoor Parish Magazine, November 2010, pp. 25-7.]