Corporal 18255 Herbert Arnott
7th Bedfordshire Regiment
Killed in Action 27th September 1916
Son of James and Elizabeth Arnott, of 29, Bury Hill, Hemel Hempstead; husband of Winifred May Sear (formerly Arnott), of 54, Cotterall's Rd., Hemel Hempstead, Herts.
Thiepval Memorial, Pier and Face 2 C.
Enlisted: Bedford.
Residence: Hemel Hempstead.
Lance Corporal 27905 Charles Jesse Whittaker
7th Bedfordshire Regiment
Killed in Action 27th September 1916
Son of Jesse and Louisa Whittaker, of 10, Railway Terrace, King's Langley, Herts.
Thiepval Memorial, Pier and Face 2 C.
Born: Abbots Langley.
Enlisted: Hemel Hempstead.
Residence: Kings Langley.
Herbert Arnott was killed in action on the 27th September 1916. He was Corporal of the 7th Bedfordshire division (18255). He was husband to Winifred May Sear from Hemel Hempstead, 54, Cotterall's Rd.
Charles Whitaker also died on the 27th of September 1916 and was ranked Lance Corporal of 7th Bedfordshire Battalion.
Both men died in the battle of Thiepval Ridge along with 4,000 others from the 18th division, which lasted between the 26th to the 30th of September as part of the larger battle of the Somme in which there was 420,000 British casualties in a 5 month period.
The account starts on the 26th September when a mine was set off under the German trench which led our soldiers to advance on Baypoint trench. The soldiers went into the trench leading to many German soldier casualties as well as this debris covered the first line of the Allies assault. "There was heavy machine gun fire so we had to dive into shell holes". As the assault unfolded Allies and German forces exchanged bombs. This led the Germans to surrender at Emden and Bay Point (both trenches). Allied soldiers continued to advance and travelled as far as 70yards away from Popoll Lane where "for some time the ground was swept with heavy machine gun fire".
The account concludes at 9:00 o clock which gives us reason to believe both these men died at some point after this on the 27th September.
Source:
By David Snow and Edward Langley
1st July 2016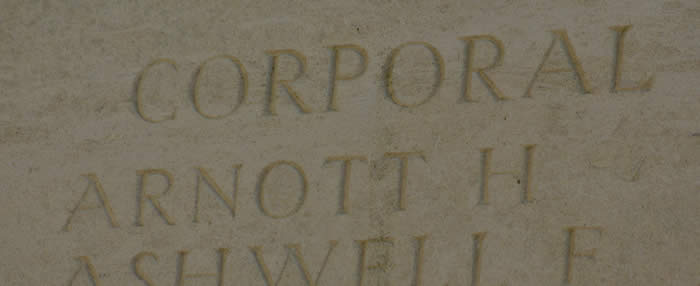 Arnott's name on the Thiepval Memorial
(Photo: Richard Grayson, 27th March 2012.)